Last week, over 14,000 digital marketers, sales professionals and agency partners flooded to Boston for HubSpot's annual INBOUND conference.
We headed over to learn new skills, get inspired, generate ideas and of course, learn about the new marketing and sales features announced for the HubSpot platform.
If you're a HubSpot user already, or familiar with any of their content, you've probably already heard an overview of these new features, so rather than bore you with the details, instead here's a handy summary of the new features, their benefits (and limitations).
Marketing highlights:
Ads add-on:
If you run sponsored content or display ad campaigns in LinkedIn or Google Adwords, this new update is good news for you. The ads add on enables you to create your ads inside HubSpot and work out which ads convert the most leads into customers...without the need for tracking URLs.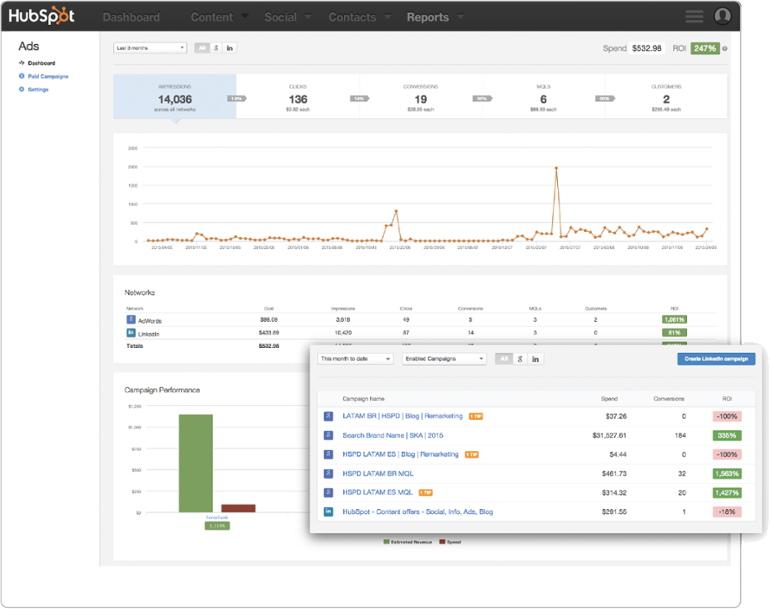 Good points:
Easy to use and manage your ads and campaigns, improved trackability and reporting on ROI. You can even track your ROI down to each keyword without needing to export and manipulate data.
Drawbacks:
At $100 per month, this tool will be well worth it for larger businesses running frequent LinkedIn and/or PPC advertising campaigns, however for smaller businesses and B2C companies, the tool isn't yet comprehensive enough. (Although we are reassured that more features/integrations are coming.)
Display advertising and channels such as Facebook and Twitter are under development, but I wonder whether it's worth waiting for these to be online before making the $100 per month jump.
Reporting Dashboard:
This one also applies to sales, as it works with HubSpot CRM. The tool can be used to generate a broad spectrum of reports, from sales pipeline dashboards to tracking new marketing qualified leads and sources. There's 20 report templates built in, or you can build your own custom reports based on any property value within HubSpot that you wish.
Good Points:
Great for presenting data in a digestible and intuitive way. If you need to provide a regular snapshot of progress and/or results to a senior manager/client...or you just like getting stuck into the data to track and measure everything down to the last detail this tool is for you. It's also really easy to track back the ROI of your campaigns and activities...great if you need a justifier for marketing budget/investment.
Drawbacks:
The reporting tool comes in at an extra $200 per month on top of your regular HubSpot license fee, so it adds a big chunk to your HubSpot invoice. It's worth evaluating how much time you currently spend disseminating data, calculating ROI and drawing up reports, try and assign a cost to this time and use this to determine whether you feel it's worthwhile.
Predictive Lead scoring:
Fed up of trying to realistically score your leads without your results being skewed by a whole range of random factors and ending up with a "qualified lead" which clearly isn't?
Predictive lead scoring takes the guesswork out of the equation by providing a lead score based on behavior, demographic, social, email, company, and spam detection data.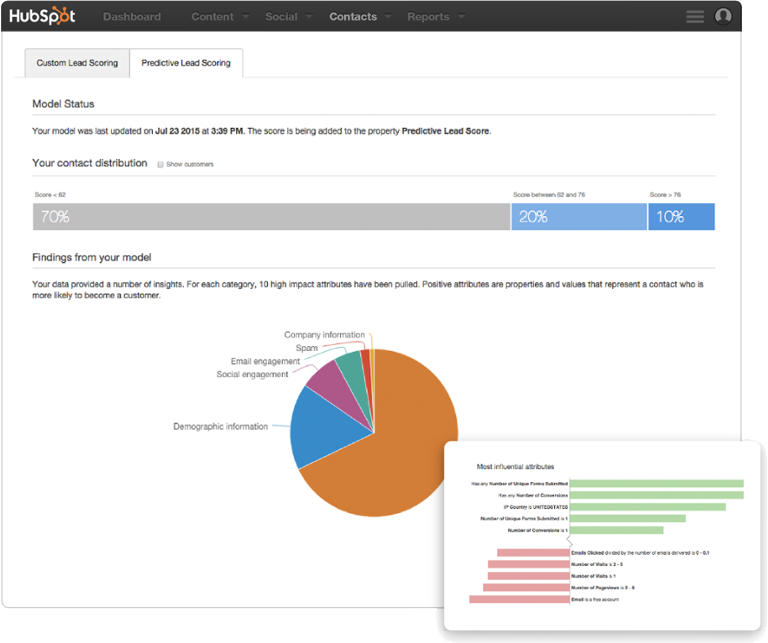 Good points:
Intelligent, intuitive and easy to set up. This intelligence is also invaluable when shaping your positioning and defining new campaigns to target key personas.
Drawbacks:
Bad news for anyone on the basic or professional package, as predictive lead scoring is only available in the Enterprise package.
Other marketing highlights:
Other notable updates included: The easy initiative - you may have noticed a new inline editor within your HubSpot portal for landing pages, blog posts, emails and more. This has also been rolled out across the COS website platform.
HubSpot have also released a "connect" feature which in short offers more integrations with systems such as Zendesk, EventBrite, Shopify and more. The biggest advantage is that you can trigger workflows from integrations, such as new help-desk tickets or event participation.
Find out more about the new marketing features within HubSpot - Join us at our next HUG event on 1st October where we'll give you a full run-through of the new features.
Introducing Leadin:
My personal favourite announcement at INBOUND15 was the launch of Leadin, which, in a nutshell, is a project from HubSpot Labs with a mission to bring inbound marketing to everyone.
If HubSpot is out of reach budget/time investment wise, Leadin offers a great (and free) way to:
a) See who's on your website and what content they're looking at
b) Add CTAs and forms to every page (including popup CTAs)
c) Facilitate simple follow-up through email workflows (integration with Mailchimp & more)
d) Track traffic sources, content performance and more
Good points:
Everything- This is a must have for anyone (unless you already have HubSpot or a similar tool already!)
Bad points:
For larger companies with more established marketing strategies, running multiple integrated marketing campaigns, Leadin won't offer the breadth of tools & functionality you need...But if that's the case you should be using HubSpot already right? ;-)
Sales Highlights
INBOUND15 was as much about inbound sales as it was inbound marketing, and rightly so, because these days traditional sales is about as effective as traditional marketing (not very!) We live in a world where prospects are more informed, have access to all the information they need at the click of a button and have got very good at evading sales people. So where can HubSpot fit in?
CRM + Sidekick
First and foremost, the HubSpot CRM is FREE! If you haven't tried it yet, it's well worth your while, especially if you're using the HubSpot marketing platform as the two tie perfectly together. What makes this CRM special is how it links with Sidekick (freemium) to gather insights and present them to your sales team (such as who's viewing the pricing page.) This helps qualify and provide context to conversations, so you're never calling a prospect cold.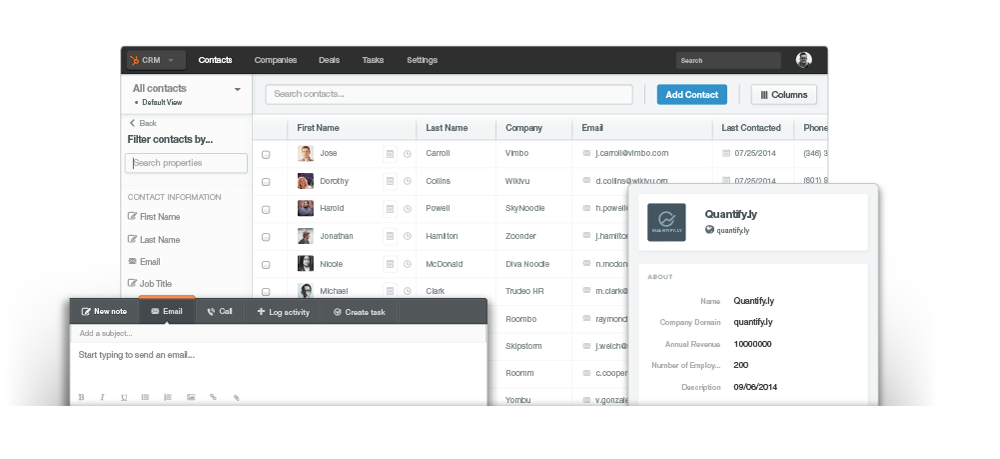 Good points:
HubSpot CRM takes the complexity and time intensive admin side out of CRM so it actually becomes a useful tool rather than a burden for sales teams. As well as nurturing leads and existing customers, you can also use the CRM to browse and filter through a database of millions of companies to find new prospects.
Drawbacks:
I've yet to see/hear about how effective the HubSpot CRM would be in a large company using an enterprise level Salesforce package for example. It doesn't offer any of the complex features within Salesforce such as building quotes, managing invoices, generating custom reports etc. (Although the new reporting tool does work with the sales/CRM side of HubSpot too.)
Get the full run-down:
At the next Derby HUG meetup on 1st October we'll be covering a full run through of all the INBOUND 15 announcements and product launches. Register to join us now: