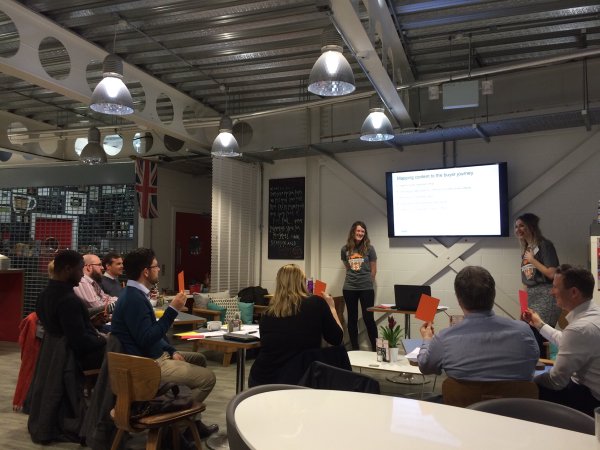 The first Derby HubSpot user group session of 2016 took place last night with an interactive workshop session focused on conversion paths and lead nurturing. The Q1 HUG event was a great success, setting the bar high for the rest of the year - thanks to our fantastic group of budding HubSpot users and inbound marketers alike.
Here's a quick summary of what we covered during the session:
Start with a plan....
There's no point in launching a campaign if you haven't got a clear strategy and goals behind it. You need to understand what you're planning to get out of the campaign, how long it is going to run for and importantly, the audience that you're trying to target.
For the next few slides, we explain how you can get started with the first steps of creating an effective campaign strategy.
The importance of goals
So you understand that you need to launch a campaign, but what are you launching it for? What are you planning to achieve?
Well in order to set goals, you need to be able to understand how your business is currently performing.
In our presentation, we look at cake shop owner, Lola. Lola knows that 2000 people walk past her shop every day, let's treat these people as your website traffic.
Of those 2000 people, 10% will actually come in and take a look at her cakes, they may ask for a bit more information but subsequently they will leave before making a purchase - these 200 people are your website leads.
50 people however, will visit her shop, take a look round and purchase a cake - these people are your customers.
Lola understands that she is getting a healthy amount of traffic to her website, so her problem lies with enticing people to come into her shop and ultimately make a purchase.
In an ideal world, Lola would have every single person who enters her shop (or in your case, becomes a lead) making a purchase. But she realises that this isn't an achievable goal.
Be SMART
So once you've looked at your current situation, and determined which element you would like to improve on, whether that be visits or conversions, you need to determine the desired outcome of your campaign.
When determining your goals, you need to be smart. What does this mean?
SMART stands for:
Specific - Instead of your goal being 'to see an increase in conversions' choose a figure, whether this is a percentage increase or a number of leads that you would like to be converting by the end of the campaign.


Measurable - To measure the progress of your campaign, you should have concrete criteria in place. These will be your key performance indicators (KPI's).


Attainable - Don't pluck an unattainable number from the sky, do your research and ensure that the figures that you choose are achievable for your business within this campaign.


Relevant - The goal of your campaign should matter to your business, and address a core initiative.


Timely - Set a realistic time limit for reaching your goal, you could even do this on a quarterly basis. If your campaign never ends, how will you know that the marketing strategy you've been using is effective?
Personas and the buyer journey
Now that you have determined the goals for your campaign, it is time to think about the people that you're targeting.
In inbound marketing, we always start a campaign with creating a Buyer Persona.
A buyer persona is a fictional and generalised representation of your ideal customer. Having a real person in mind when marketing your product or service will allow you to relate to your potential customers more easily.
Relating to your potential customers helps you to get a deeper understanding of what your ideal customer is driven by, the channels that they use and ultimately will make your marketing more personalised - resulting in higher conversion rates.
So how do you create the persona?
Creating a buyer persona isn't as complicated as you may think, and you do this in just a few simple steps.
You'll need to give your persona a name, for example, IT Ian, or Marketing Manager Marie. Something memorable that gives your persona an identity.
Once you have given your persona a name, there are a few questions that you need to answer to create your buyer persona:
Look at their potential pain points, what are the common problems they encounter, which your product or service will be able to answer?


Consider the demographic, what age could this person be? Try to make this as accurate as possible. Also, would the majority of customers in this role skew towards male or female?


Ask yourself, what is it like to live a day in the life of your persona? Are they married, do they have children? These details are important to understanding when and how to market to your persona.


Next, where do they usually go for information? Do they strictly use search engines, are they part of industry groups and forums or are they likely to follow industry thought leaders on social media?
Our Persona development worksheet asks all of the questions that you need to answer to build a full profile of your ideal customer. You can download a copy of the Persona Development Worksheet here.
The Buyer Journey
The Buyer Journey is a term familiar to most marketers, but what does it mean? The Buyer Journey is made up of three stages Awareness, Consideration and Decision.

These stages reflect the position and mindset that your prospect is in when visiting your website:
Awareness - If your prospect is in the awareness stage, they have identified that they have a problem but are unaware of the solution.


Consideration - A person in the consideration stage will understand their problem in more detail, but need a little more information before settling on a solution.


Decision - Someone at the decision stage of the buyer journey has a handful of solutions but requires validation before going ahead and making a purchase.
Understanding which part of the buyer journey your visitors are at will help you to provide them with the right solutions at the right time. Your understanding will not only improve your prospects user experience when visiting your website, but it will also have a positive knock-on effect on your conversion rates.
Mapping content to the buyer journey
You may not already know it, but your website will be full of content that you can already use to convert visitors to leads.
To do this accurately, you need to pull together any content you have, this could be anything from product datasheets to blogs that you have written.
Then, using our Content Planning Matrix worksheet you can map each piece of content to every stage of the buyer journey.
The sheet will also allow you to see if there are any gaps in your content offering.
Here are our #DerbyHug attendees matching content titles to the right stages of the buyer journey. #InboundMarketing pic.twitter.com/sCxjRFX1id

— Katapult (@_Katapult) March 22, 2016
Build it and they will convert: Tools walkthrough
In this section, we look into the fundamentals of an effective conversion path, by comparing the process of attracting and capturing leads to capturing the easter bunny!
There are three stages to a successful path, these are:
Calls-to-action
Conversion optimised landing page
Thank you page
The best practices for building these assets appear on slides 21-36 in the SlideShare above. You can also find out more about creating a highly converting conversion path in my recent Katapult blog:
Marketing automation best practice
Studies show that 50% of leads are qualified but aren't immediately ready to buy something from you. So, although a lead may have exchanged their details for an offer on your website, there's a one in two chance that they won't be ready to hear from you just yet.
Marketing automation is the process of using email marketing to nurture your leads gently, further down the sales funnel.
During the HUG session, we explored the logical steps that you need to take before embarking on the creation of a workflow (slide 39).
When it comes to the creation of a marketing automation workflow, there are a few more things you'll need to consider:
What content are you going to include? Does this match the stage of your lead within the buyer journey?


Have you thought about delays between emails? The last thing that your lead will want is to be bombarded by eight (or more) emails within a week. So, consider your sales cycle, if the service or product you're marketing requires consideration before a making a purchase, you might want to stretch out your workflow.


Is there an opportunity for your lead to jump straight to the decision phase and get in touch/request a demo? While this could seem like an unusual step to include, your lead could be a bit like IT Ian (slide 9) and finds the 'fluffy' blogs and downloads irrelevant. Give your persona an opportunity to skip the fluff and get down to business.


Are you making sure that your emails are valuable and informative? Do not just send sales driven emails; your emails need to be written with your persona in mind and with the aim of addressing their pain points NOT pushing them to make a purchase.
As a rule, we would always recommend planning your workflow on paper first. The Workflow Planning sheet will allow you to not only plan the content you want to send, list the delays between emails and set the triggers for the emails to start sending.
Want to learn more about marketing automation? Take a look at the Beginners Guide to Marketing Automation on the Katapult Marketing Blog.
So, what are you waiting for?
With all of the assets included above, and the abundance of blogs and videos available, there's no reason for you not to make a start on your next lead generation campaign.
If you have any questions about creating your own effective conversion path, we're always happy to help.
Our next HUG Workshop will be taking place in June, and we'll have more details on the topic very soon. We look forward to seeing you there!